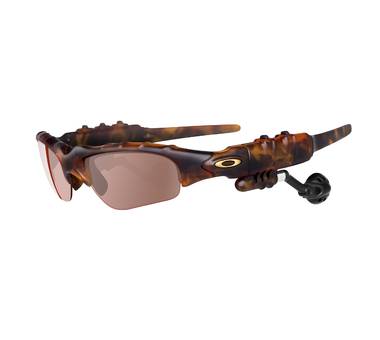 The Oakley Thump is touted as a lightweight, durable set of sunglasses with a great added feature: the MP3 player.  After wearing these sunglasses with their polarized lenses, that flip up when not needed, I have several opinions.
First, ease of use.  All you have to do is plug them in on a Windows machine, and no driver is needed.  I am currently using Windows XP Media Edition on my personal and XP Pro on my work laptop.  The product worked on both.  The system identified the player as a mass storage device, assigned a drive letter, and named it THUMP256.  I then transferred my files over in the Windows Explorer pane with no issues.  Also, they are compatible with several other sync programs, such as Windows Media Player 9 and 10.  I also tried it on Windows Media Player 9 and 10 with the same ease of use results.
Second, ease of adjustment.  These glasses have several adjustments for the earbuds.  Horizontal, vertical, and rotating in and out.  The buttons for on, pause, off, volume up and volume down are easy to handle while being worn, and the glasses fit snug on my head.  I have run with them and they are very durably constructed out of high impact polymer.
Third, Flip up lenses.  This is one of the great features, if you are wearing them and go through a darkened area such as a tunnel or woods, then you just flip up the lenses and you have clear view.
Fourth, Amazing sound:  I have researched the acoustical equipment on Oakley's web-site www.oakley.com, and this MP3 player must have been designed by someone who knew how great music should sound.  I can't max the volume, due to the sound being too loud on high.  The stereo quality is amazing, including the change from left to right speaker and blend that some songs have is very discernable, i.e. the name THUMP.  Also, when you turn on the player or turn it off, it lets you know it has received the command by letting out a thump, thump sound.
Drawback:  The only issue I have is that the earbuds can be a little painful to the outer ear.  Since I have small ears, the earbuds tend to scratch the skin a little, a condition made even worse when sweat is involved.
Overall Rating:  A 4 out of 5.  I got these glasses used so I didn't pay full price.  There are several models and styles: 256MB, 512MB, 1GB.  If you are a serious music lover and enjoy a vast variety, go with the 1GB due to  total song storage capacity.  If you just want these for running, cycling, walking, or just to wear around the yard on the mower, go with the 256MB.  The 512MB is a better overall value than the 256MB though, at just about 30 dollars more.  The 1GB will set you back around $400 US.  They are very durable, and there are other models that have replaceable lenses.  I wish I could have found this deal sooner, because I do love the glasses, and I intend to place a bud cover over the ear buds to help with discomfort.
Philip Stewart
Tennessee